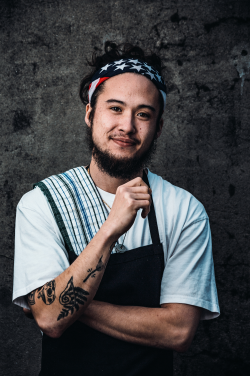 I met Joshua Young out the back of the Chinoiserie, a busy suburban eatery on the corner of Ōwairaka Avenue and Mt Albert Road. Young has been working here for five years now. He's been head chef for two and a half.

There's an unusually large number of cartons and boxes outback. Young apologises for the mess. "We've just opened a second eatery in Manukau," he explains. Young has recently moved into his new home in Henderson, and as of our meeting he's about to become a father. It has been a busy year.
I catch a hint of an accent which I can't quite place. American perhaps. I ask him where he's from. "I'm from Fiji, but that's the short answer," he replies, and says it's probably best we start with his parents. And his parents' parents.

"My mum was born in America. Her parents were missionaries to the Pacific so they moved to New Zealand when she was about three years old. She grew up in Kaukapakapa. After that they moved to Fiji to do more missionary work, and that's how she met my dad."
"My dad's a Fijian-born Chinese immigrant. His parents came to Fiji during WWII. My parents got married, and settled down in our family home in Lautoka."
The Chinoiserie specialises in Taiwanese-inspired street food, and word on the street is that they're famous for their bao but I'm here to try Young's favourite dish, the gong gong noodles.

"The gong gong noodles is one of the first dishes I developed as head chef. I'd never developed my own recipe before, so the whole process was a bit daunting. But I loved how it came together. It made me think, okay, this is possible. I can do this."

Young says growing up in Fiji exposed him to a variety of foods and he acquired a love of cooking at a young age. "My mum was my first tutor in how to run a kitchen efficiently. We always had lots of people at our house, so she was good at catering for large numbers. She had an incredible catalogue of family recipes and she adapted to the local produce available. My favourites were her roasts, soups, and she made the best breads and pastries. She's an excellent cook."

"My father grew up in his parents' restaurant, one of the first Chinese diners in our city. From him I learned those distinct flavours and the art of the stir-fry. He also passed on a deep appreciation for a well-cooked steak."

"I'm so thankful for my parents and for my multicultural upbringing. It's safe to say I never went to bed with an empty stomach, but I was always hungry for more."

Young's first foray into the hospitality industry was a dishwashing job at a Daikoku restaurant in Nadi, Fiji, specialising in teppanyaki.
"It was very strict, very systematic. After six years they bumped me up to vege and meat prep, then eventually into teppanyaki. It was the full deal – juggling and stuff. I learned a lot."



After moving to New Zealand, Young did a brief stint at St Pierre's before getting his "big break" – a teppanyaki job at the Stanford Plaza's Kabuki restaurant. "I got paid more and, because it was a hotel, there were a variety of different restaurants – à la carte, the banquets. I floated between them and picked up everything I know."

"I was quite new to the country at this time, and I got to befriend people who gave me a proper introduction to the country. I wouldn't be as well adapted as I am now if not for them. Not to mention this is where I met my partner."

Two years later (2015), Young landed a part-time role at Chinoiserie. Many of the dishes at Chinoiserie are centred around efficient meal preparation. If you prep well, you can bang the dishes out quickly and confidently. "There's few things more invigorating than a busy service with some awesome food to show off," says Young.

Young's gong gong noodles draws inspiration from the traditional Chinese Sichuan dish, dan dan noodles. 'Dan dan' refers to the over-the-shoulder carrying poles used by Chinese street vendors who hang baskets of noodles on one end, and a spicy sauce on the other.

"Our version is called gong gong noodles because we use our house-made gong gong sauce mixed with some sesame paste and minced garlic as the base. It's less spicy than the traditional dan dan sauce to fit our flavour profile, which is sweeter than traditional Taiwanese cuisine."

It's a rainy Friday night and Chinoiserie is busy. Inside it's a kaleidoscope of colours and activity. The ceiling is covered in dimly lit lanterns, the walls in hand-painted murals. Diners sit in groups of two and three. I count a party of seven out front. Young reckons it's a big Tinder date spot. "I can always tell."

I order the gong gong noodles and pair it with some saltier dishes, edamame and fries, to balance out the sweetness. Chef's recommendation.

The sauce is sweet but not overly so. It sits, soup-like at the bottom of the bowl with a generous helping of noodles piled on top and garnished with Sichuan peanuts and chopped coriander. Layers of minced pork and chopped beans lie somewhere in between. It's labelled as a side dish, but even though the bowl is small the noodles are thick and filling.

There's a trick to eating the gong gong noodles. "I put 'mix well' in capital letters on the menu," says Young. "Some people start eating it and think it's not tasty enough. Then when they get to the bottom, it's too tasty."

"There are so many components to this dish and they're all layered one on top of another. You've got to mix it all together. That way, you can appreciate all the flavours with every bite."

Young says his dream is to go into business on his own one day. "I want to do something similar to what we do here. We hire staff as they are, train them and give them a leg-up into the industry."